Our family has been in the dry ice business since 1948. We are the major supplier of dry ice, solid and pellets, for laboratories and hospitals in the Houston Medical Center.
In addition, CMR Carbonics supplies air freight companies the dry ice needed to air freight food products and medical specimens all over the world.
Dry Ice is sold by sixty pound blocks, either solid block or sliced into five pieces of approximately twelve pounds each. Dry Ice pellets are sold by fifty pound bags. CMR Carbonics sells dry ice by the block, the slice, half slice, pound, scrap and in pellets.
Dry Ice is -109 F, and precautions must be taken in handling the product so as not to burn your skin. It may be transported in bags or boxes and may be stored in dry ice or wet ice style coolers.
Dry Ice is compressed CO2 gas, and immediately begins dissolving after being formed, vaporizing into the air as an odorless, tasteless gas. During transportation of Dry Ice, precautions should be taken to ensure a steady fresh air supply since the vaporizing CO2 displaces oxygen. Kept in an air-tight cooler, one sixty pound block of Dry Ice will dissolve in approximately seventy-two hours.

Carbonics stocks 5 lb., 10 lb. and 20 lb. aluminum cylinders to sell to companies or to the public. Many home brewers purchase their CO2 cylinders from Carbonics.
CYLINDER CO2 GAS REFILLS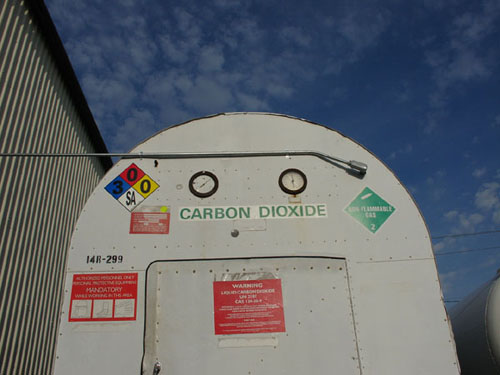 Carbonics supplies the Greater Houston Area restaurant and beverage industries with their CO2 gas needs. We specialize in 20 lb. and 50 lb. cylinder refills, with pick ups and deliveries on either a route basis or call-in basis.
Carbonics is one of the few companies in the Greater Houston Area that will fill a customer's cylinder while they wait. For this reason, many home brewers bring their cylinders for refilling to our warehouse facility at 1207 Missouri Street, South Houston, Texas 77587.

Carbonics stocks gauges, handles, handwheels, stem nuts, springs and washers for Luxfer and Catalina cylinders. We can repair your cylinder in our shop while you wait.
Plumbers, air conditioning and refrigeration professionals and the pool service and repair professionals frequently require the pressure and clean air provided by CO2.
Carbonics stocks 5' blow-out hoses with fittings that attach to a CO2 cylinder. This "blow-out" arrangement is used any time there is a need to blow out a line or clean something and need the pressure and cleanliness of CO2 gas.
Federal law mandates that high pressure cylinders be visually inspected and hydrostatically tested every five years to ensure their safety and integrity. During the testing process, small pit areas or stress areas on the interior or exterior will cause a cylinder to be unfit for service. If no pitting or stress areas are found, then the cylinder is stamped and put back in service for another five years.
If hydrostatic testing of your cylinder is in order, Carbonics offers that service along with sandblasting and painting your cylinder the color of your choice.
Carbonics provides 50 lb. helium rental cylinders. Companies such as automobile car lots, party supply stores, pharmacies and more keep a HE cylinder available for inflating balloons either for their own purposes or for selling inflated balloons.
Carbonics will come to your place of business and pick up the empty HE rental tank and leave a full rental tank as needed.

Carbonics recommends using balloon regulators with a gauge, so that overfilling of balloons does not occur.
Carbonics has balloon regulators with a gauge for sale and for rent. We also sell or rent balloon regulators without a gauge.